Buy Indian Wedding Invitation Cards
Unique Indian Wedding Invitation Cards Designs to Impress Your Guests. Don't miss out on some very special items at extraordinary sale prices. For a limited time!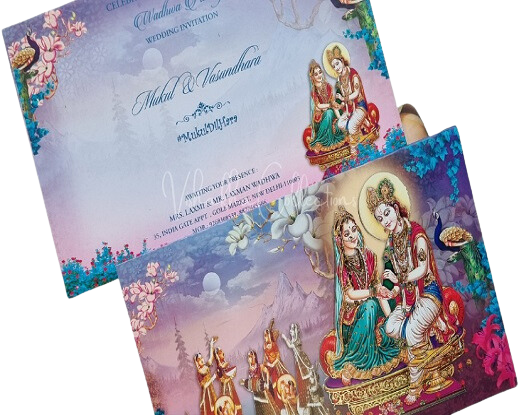 Buy Indian Wedding Cards By Religion
Shop Affordable Wedding Invitation Cards
Why Vishakha Collections?
We believe that every marriage is unique and every invitations indian wedding cards invitation is unique. That is why, With a clever offering, superb support and a secure checkout you're in good hands, we deliver special invitation cards for your unique requirements.
Smart Idea for Invitation
With dozens of beautiful invitations ideas, you'll find what you're looking for in our store, and it will be unique and personalized to match your marriage theme.

Our customer support is second to none – users rave about how we don't rest until every issue is solved to their satisfaction.

With 128-bit SSL security with advanced encryption you are guaranteed that your indian wedding invitation cards purchases are safe.
Real Talk from our Real Customers
Loyal customers, they don't just come back, they don't simply recommend you, they insist that their friends do business with you.
My experience of dealing with 'Vishakha Collections' was nothing short of 'brilliant'. Very friendly, very professional and exuding class all along. The entire journey starting with initial enquiry, selecting of card from a whole gamut of variety, designing and layout of content and finally, the delivery of ultimate product ahead of time was exhilarating. Very happy, very satisfied. I would rate them 5-star *****. Highly recommended!
I stumbled upon Vishakha collections when I was searching for beautiful wedding cards for my daughters wedding .
I liked all the styles featured there and I picked one of the floral ones.
Today I got them.and they look beautiful.Thanks Vishakha.I would recommend them to anyone looking for beautiful cards for any occasion.
Dr.Livy Shivraj
All Wedding Invitation Cards At a 20% off for one week only. Don't miss out on this incredible deal!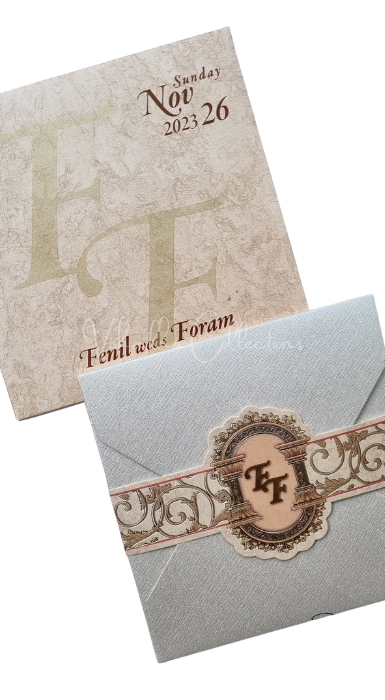 Premium Marriage & Wedding Invitation Cards
We pick the very best indian wedding invitation cards so you can be assured of the quality. There can be no compromises when it comes to materials, ease of wear, and durability. We keep best indian wedding invitation stock in market.
Indian Wedding invitation Cards
Congratulations on your Upcoming Nuptials!
Your big day is fast approaching and we're here to help you with one of the most critical tasks on your wedding checklist - arranging stylish Indian wedding invitation cards for your guests.
Vishakha Collections - The Best Online Experience for Your Wedding Invitations
Vishakha Collections aims to offer you the finest online ordering experience for your wedding invitations, all from the comfort of your home, complete with stock photos and vectors on our site. Our service delivers a superior experience compared to visiting a physical Indian wedding card store. With us, you can:
View our extensive collection of designer wedding cards online, complete with prices
Enjoy free shipping within India and discounted shipping worldwide, with our global courier service, including the United States, Canada, United Kingdom, Australia, Singapore, and Dubai
Rely on transparent pricing, with no hidden charges
Order fully refundable samples of your preferred Indian wedding card designs to touch and feel from the comfort of your own home
Receive live customer support from our invitation specialists via WhatsApp and calls throughout the ordering process
Designer Wedding Cards
At Vishakha Collections, we boast a vast array of designer wedding cards that showcase our diverse and rich cultural heritage. Based on your design preferences, you can view:
Printed wedding cards in categories such as Floral, Traditional, Festive, and Royal
Wedding invitations based on religious and cultural backgrounds, including Hindu, Punjabi, South Indian, Christian, and Muslim
A Peek into Our Indian Wedding Card Design Collection:
Wedding Cards by Design:
Floral wedding cards - Fresh florals in pastel and bright hues for all seasons, perfect for every bride
Traditional wedding cards - Bright and festive, capturing the essence of a traditional Indian wedding
Festive wedding cards - Wedding-themed, yet minimal, a modern twist to traditional Indian weddings
Royal wedding cards - Rich and intricate styles, embodying the vibrancy of your wedding festivities
Wedding Cards by Culture:
Hindu wedding cards - A diverse array of designs, from traditional to fresh florals, that are Indian at heart
Punjabi wedding cards - Elegant inlays, arches, and quotes from the Guru Granth Sahib, perfect for your Anand Karaj
South Indian wedding cards - From banana leaves to Kanjivaram weaves, we have it all for your Shubh Muhuratham
Christian wedding cards - Fresh florals and beautiful arches for a perfect Church wedding
Muslim wedding cards - Rich, ornate designs with elements from Islamic patterns and Mughal architecture, embodying the essence of your Nikah ceremony and festivities
Our printed wedding cards can be paired with matching RSVP cards and detail cards, popular with NRI's to complete their wedding invitation suite.
Additionally, you can also opt for a matching e-wedding card for each printed wedding card. These e-cards can be sent via email or WhatsApp and are convenient for inviting out-of-town guests, as well as reminders closer to the wedding.
We offer a wide range of popular motifs that can be added to both printed and e-wedding invitations, with a diverse collection to choose from based on your religious and cultural preferences for each function.
For those at a loss for words on such a big occasion, we have a library of wedding invitation wording and message templates for your various functions, which you can edit or use as a guide.
We're thrilled that you're considering us for your wedding invitation needs. Don't hesitate to reach out to us with any questions or for assistance.
Frequently Ask Questions ​
What do you write in an Indian wedding invitation card?
There are a few essential wedding invitation wording line by line which you can incorporate for your invitation.
Host Line
According to this rule, whoever is paying for the event is the host. Indians usually put their parents' or grandparents' names in this section. Include the name of the event host and the name of the bride and the groom.
Request / Invitation Line
This section dwells on inviting your loved ones to your main event. You can use your creativity here and express your heartfelt welcome to your guests.
Names
The names of the couple should obviously be there. Moreover, if the invitation is going from the bride's side, then her name should be mentioned before the groom's name. And if the invitation is from the groom's side, then his name goes first. Apart from this, if the invitation is being sent from both sides, in that case as well, the bride's name goes first. However, it is good to seek blessings from the forefathers and thus mention their names in your marriage invitation message.
Parents and Grandparents Names
When we talk about Indian weddings, only paternal grandparents' names are mentioned. And as far as parents are concerned, their names are written with Mr. and Mrs. Or Smt. And Shri.
Information Line
This section of your wedding invitation text deals with functional details like dress code, theme, RSVP, etc.
Gifts
Your wedding card can also comprise the information wherein you mention the gifts, as in whether you need them or no gifts for your ceremony.
A Request to Attend
Indeed, if you invite the guests to be a part of your special event, you would definitely want them to attend the ceremony. You can have a special section wherein you request them to be a part of the auspicious event.
"Please honor the event by your presence."
"We invite you to celebrate the special event with us."
Wedding Invitations Templates for 2023
You can have simple wedding invitations where you have the flexibility to go formal, intimate, or casual while inviting your guests.
How do you invite to Indian wedding?
There are different rules of etiquette for wedding invitations in every culture, and Indian invitations are no exception. Though, the rules for sending Indian wedding invitations are generally the same as other cultures, there are few different rules that must be followed when sending an invitation to an Indian wedding.
Guest List
Similar to most wedding cultures, in an Indian wedding, the bride and groom must create the guest list together. Friends of both the bride and groom's parents should be invited to the wedding, and also business acquaintances of both families. The guest list should be made before the hall is reserved so that you can be sure there is room for all guests.
Extending the Invitation
For traditional Indian weddings, it is customary for the bride and groom to personally invite close friends and family members, especially the elderly guests, as opposed to sending them a paper invitation. For guests that aren't as close to the family, a paper invitation should be sent in the mail. A follow-up phone call should be made to all of the invited guests to make sure they received the invitation, or to remind the guests that were invited in person.
Mailing
When mailing an Indian wedding invitation, proper etiquette calls for all invitations to technically be mailed from the bride's home. This is true whether the guest receiving the invitation is a friend of the groom, or doesn't even know the bride yet. This means that the return address on the envelope should use the bride's name and address. Indian wedding invitations should be sent six to eight weeks in advance to give the guests time to plan for the wedding celebration. Include information about accommodations, and any other additional information at the time of mailing.
Save-The-Dates
Save-the-dates should be sent to guests who are traveling to come to your wedding. This is especially true of friends or family who are traveling overseas. Save-the-dates should be sent at least 10 weeks in advance, longer if they are traveling from a far location. Again, be sure to add hotel information so they can book their accommodations early.
RSVP's
RSVPs are not expected for Indian wedding information. It is uncommon for an RSVP date to be included in the text of the invite, nor a response card. However, if your guest list includes guests that are from a culture that does often send RSVPs, you should try to let them know that it will be assumed that they are coming unless they send their regrets. Perhaps, add a piece of paper including this information to the invitation to inform non-Indian guests.
How to make Indian invitation card online?
Look for the best template
Narrow down your search by specifying the specific occasion the invite is for. Pick the invitation template that suit your preferences by adding keywords that relate to your theme, color motif, mood and style.
Add images and text
Use the drag-and-drop tool to select image, illustration, or other elements and move them to your design. Jazz up your invite by adding text boxes and using the animation and photo effects features.
Customize a bit more
Upload your own photos, images and artwork. Choose your own background, font style and color scheme. Rearrange elements, resize text and images, duplicate or delete elements and continue to experiment with your design.
Print or share
Once you're finished, you can share your invitations online in a few clicks. Or, you can download and print them out with Canva Print.
How to make online wedding card free?
To create an online wedding card, you can follow these steps:
Choose a template: Once you have chosen your platform, select a template that you like. Most platforms offer a wide range of templates to choose from, including different styles, designs, and themes.

Customize the template: After you have chosen your template, start customizing it to make it your own. You can add your own text, images, and design elements, such as colors, fonts, and graphics, to make the card reflect your style and personality.

Preview and test the card: Before you send the card to your guests, preview it and test it to make sure it looks and works the way you want. Check for typos and make sure all the links and buttons are working.

Send the card: Once you are satisfied with your card, send it to your guests by email or through the platform's sharing options. You can also share the card on social media or embed it on your wedding website.
By following these steps, you can create a beautiful, personalized, and unique online wedding card to share with your guests.
How much time is required to make a wedding card online?
The amount of time required to make an online wedding card will vary depending on several factors, such as the platform you choose, the complexity of the design, and your own experience and familiarity with the platform.
On average, you can expect to spend anywhere from 30 minutes to several hours creating an online wedding card, depending on the level of customization and attention to detail you want to put into it.
If you are new to the platform or to creating online wedding cards, it may take you longer to get the hang of it and create a card that you are happy with. However, with a little bit of practice and patience, you should be able to create a beautiful and professional-looking online wedding card in a reasonable amount of time.
What does an e-wedding card include?
An e-wedding card, also known as an electronic wedding card or online wedding invitation, typically includes the following elements:
Design: An eye-catching and attractive design that reflects the theme and style of your wedding.

Text: The basic details of your wedding, such as the date, time, location, and names of the bride and groom.

Images: A background image, a photo of the couple, or other visual elements that complement the overall design of the card.

RSVP information: A way for your guests to RSVP to your wedding, such as a button or a link to an online form.

Map or directions: A map or directions to the wedding venue, so that your guests can easily find the location.

Registry information: Information about your wedding registry, if you have one, so that your guests can easily find it and purchase gifts.

Additional information: Any additional information you want to include, such as details about attire, transportation, or accommodation options.
While these are the most common elements found in e-wedding cards, the specific elements included will depend on your preferences and the platform you choose to create your card. An e-wedding card is a convenient and eco-friendly way to share important information with your guests, and it can be customized to match the style and theme of your wedding.
What are the most popular indian wedding invitation shapes?
Indian wedding invitations come in a variety of shapes and sizes, and the most popular shapes are:
Square: Square-shaped invitations are popular for their clean, modern look and versatility. They are often embellished with intricate designs, gold or silver foiling, and intricate patterns.

Rectangular: Rectangular invitations are a classic shape that is both timeless and elegant. They offer a lot of space for text and design elements, making them a popular choice for traditional Indian wedding invitations.

Circular: Circular invitations are a popular choice for couples who want a unique and distinctive look for their wedding invitations. They can be embellished with intricate designs, patterns, and gold or silver foiling, and they often have a central emblem or emblem that is symbolic of the couple's union.

Floral: Floral-shaped invitations, such as those shaped like a lotus flower, are a popular choice for Indian wedding invitations, as they symbolize growth, purity, and new beginnings.

Scroll: Scroll-shaped invitations, also known as "scroll invitations," are a popular choice for Indian wedding invitations, as they harken back to the traditional scroll invitations of the past. They are often adorned with intricate designs, gold or silver foiling, and elaborate calligraphy.
These are some of the most popular shapes for Indian wedding invitations, and there are many other unique and creative shapes available as well. The choice of shape will ultimately depend on the couple's personal taste and the overall theme and style of their wedding.
What shapes do your indian wedding invitation come in?
Most Indian wedding invitation vendors offer a wide range of shapes, including squares, rectangles, circles, florals, scrolls, and other unique and creative shapes. The specific shapes offered by a vendor may depend on the printing and design capabilities of the vendor, as well as the couple's personal preferences and the theme of their wedding.
It's always a good idea to ask the vendor about the shapes they offer and to request samples or preview images to get a better idea of what the finished product will look like. You can also ask for customization options, such as the addition of special designs, patterns, or embellishments, to make your invitation truly one-of-a-kind.